Planning to attend the 2022 Restaurant Leadership Conference?
Don't miss our speaking event on the future of unit growth, sales impact, and strategic relocation
The Restaurant Leadership Conference is a great opportunity to network with industry leaders from across the country. With more than 100 engaging speakers and 1,350 senior executives present, you're sure to gain powerful insights, close key deals, and form lasting connections. This year's conference will be held April 10–13 at the JW Marriott Phoenix Desert Ridge Resort and Spa in Phoenix, Arizona. Meet us there!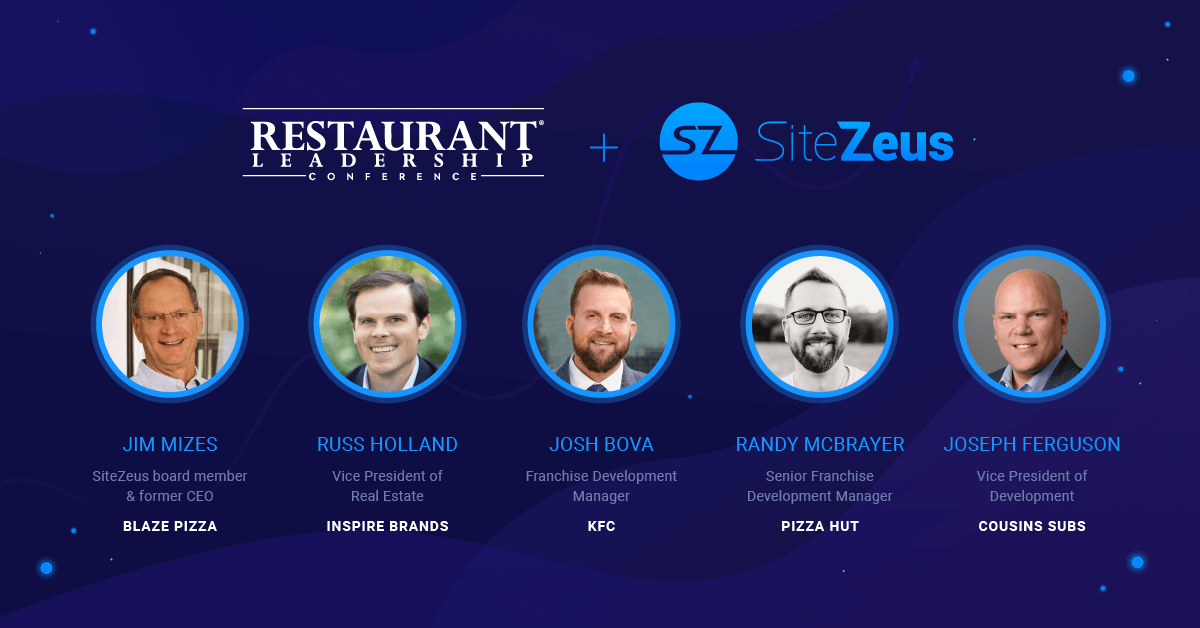 Hear from top brands

Be sure to attend our innovation forum from 8:30 to 9:15 a.m. on April 12, where a panel of restaurant-industry leaders from Inspire Brands, Yum! Brands, and Cousins Subs will share how they're driving unit growth in 2022 and implementing advanced technology for optimal location-based decisions. They'll address how a holistic growth strategy helps shield profits from market volatility by embracing all stages of portfolio development — from site selection and sales impact analyses to strategic relocations and closures.
Visit our booth for a live demo
Stop by Charging Station 8 to refuel your devices and your market-planning strategy. Our sales, product, and support experts are excited to offer live demonstrations of the SiteZeus platform and answer any questions you may have. You can also schedule a one-on-one meeting to learn how data-driven location intelligence can help your brand grow more confidently.
Let's chat!
If you haven't yet seen our A.I.-powered platform in action, this event is the perfect chance to do so. Drop your details below, and we'll contact you to find a time that works best.
Want to meetup?
If you are going to be attending this year's event and want to meet up in person or see a live demo, reach out to us!
Did you enjoy this post?
Give it a star rating to help us bring you great content!
Average rating / 5. Vote count: