SiteZeus strengthens platform with social psychographic data pioneer Spatial.ai
TAMPA, Fla. (December 3, 2018) — SiteZeus is pleased to announce a new data partnership with Spatial.ai that uses the power of machine learning to unlock a treasure trove of GeoSocial data to better understand consumers. This new data partnership represents the first psychographic partner and first social media data partner for SiteZeus.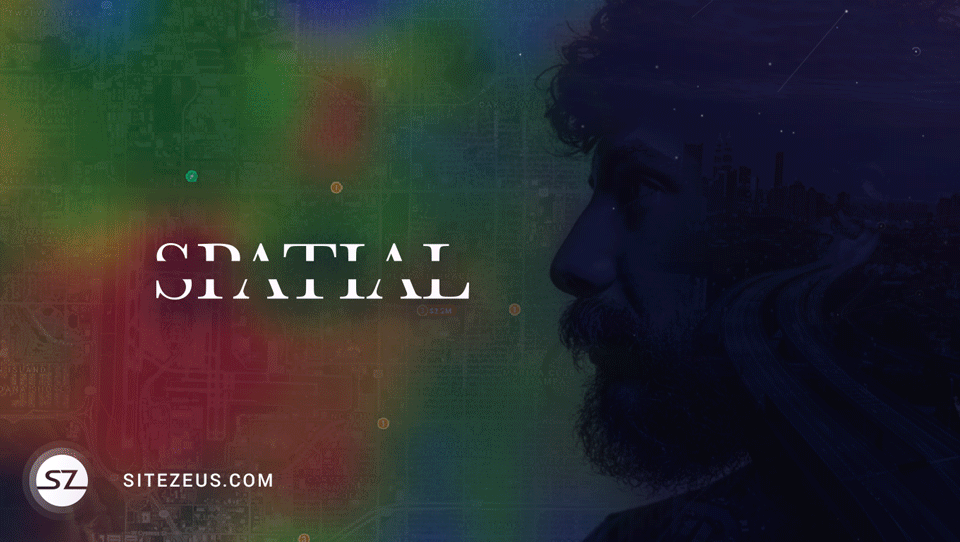 Spatial is a location data company that creates social based consumer segmentation profiles by using billions of geotagged conversations occurring on Twitter, Facebook, Instagram, Meetup and other social platforms. Specifically for SiteZeus, Spatial has generated 94 different segments "clustering behavioral data using machine learning" to create the most organic segments. Some examples are: Wellness, Athletic Fashionista/o, Craft Brew Lovers, Motivated, Millennial Nostalgia, Empty Nesters, Pop Culture, Outdoor Challenges, Nerd Alert, Hippie, Male Recreation, etc. What that means for SiteZeus users is that results from sales forecasting models are more powerfully predictive, providing greater insight to clients across a diverse set of industries, including restaurants, retail, healthcare, banking, C-stores and virtually any business that targets a certain type of customer.
This new partnership not only helps to increase accuracy of our sales forecasting models, but it further solidifies SiteZeus' position on the cutting edge of location intelligence solutions by allowing us to provide predictive psychographics,"
said Hannibal Baldwin, SiteZeus Co-founder and Co-CEO. "Social Psychographics delves more deeply into consumer behavior and preferences that help our clients better understand who their customer is and where to find him or her." Similar to other SiteZeus datasets, clients can customize the platform to target specific topics, hashtags or conversational segments that they believe are important to identify customers. Data available from Spatial also strengthens SiteZeus' growing Olympus Data Exchange, a best-in-class data pipeline that is specially designed to supplement client data with state-of-the art market and industry data.
Spatial technology goes beyond demographics to dig deeper into the social DNA of a block group. Are the consumers who live in or frequent a particular neighborhood interested in wellness, the outdoors, sports or art? Are they trendy or conservative? Spatial uses GeoSocial data to tell a story that helps companies create a social profile for their target customer. "We believe in the power of A.I. to better understand humans and cities," says Lyden Foust, Spatial CEO. "Perhaps the most useful thing about GeoSocial data is the story it tells. The insights in the data would take months of interviewing users to discover. In SiteZeus' predictive models this rich data can bubble to the surface in a matter of seconds."
SiteZeus and Spatial.ai are hosting a webinar Jan 8, 2019 to demonstrate the power of this partnership. For more information, or to register, please visit: insites.sitezeus.com/spatialai
About SiteZeus
SiteZeus is a location intelligence company using fast, accurate predictive models to help emerging and established multi-unit brands enhance their market planning. Companies across multiple industries utilize the platform to confidently expand and optimize their portfolios for maximum revenue.
SiteZeus combines a brand's store-level information with leading third-party data sets to offer sales forecasting, white space analysis, sales and closure impact studies, portfolio optimization, and territory management. The company is now applying the same data-driven approach to help marketing teams uncover hidden opportunities and more effectively target customers and prospects through real-time customer segmentation.
For more information on how SiteZeus can help your company grow, contact info@sitezeus.com.
About Spatial.ai
Spatial.ai is the world's first human-driven location dataset – built by categorizing billions of conversations from social networks. Companies like Ford, and Payless ShoeSource use GeoSocial data to predict demand, select locations and uncover the human-driven data that has a bottom line impact on their business. Spatial.ai is backed by Serra Ventures, M25, and Techstars. They have won multiple awards in machine learning and artificial intelligence from Google, Fortune Magazine, and Disruptor Daily. For more information, visit the company website at https://spatial.ai/.
Did you enjoy this post?
Give it a star rating to help us bring you great content!
Average rating / 5. Vote count: