Optimize your portfolio
The future of unit growth, sales impact, and strategic relocation
Attendees at this year's Restaurant Leadership Conference had the unique opportunity to hear from our panel of real estate experts from Inspire Brands, Yum! Brands, and Cousins Subs. In an exclusive interview, these leaders discussed how they're maximizing unit growth by leveraging cutting-edge location intelligence technology.
Topics covered
Remaining

adaptable

as you grow
Taking a

holistic approach

to portfolio development
Relying on

complete, accurate data

for profitable site selection
Balancing

sales cannibalization

with overall market share
Strategically

relocating or closing stores

to increase net revenue
Participating Brands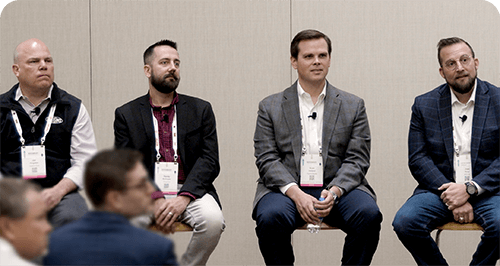 Watch Now
Hear what these restaurant-industry trailblazers had to say about the foundation of strong growth strategies.
Meet our guests
Hannibal is a fifth generation Tampa native and graduate of University of South Florida, where he earned his Bachelor's degree in Finance. Upon graduation Hannibal and his brother Keenan formed B3 Ventures, which serves as a private equity & venture capital fund. The fund focuses on emerging restaurant & specialty retail opportunities. During the last 36 months B3 Ventures Fund has led investments totaling $9,600,000 into emerging entrepreneurial businesses in the Southeast.

CEO and Cofounder, SiteZeus

Russ Holland is a driven, dedicated development executive with experience leading a team of seasoned professionals to drive net unit growth. After 12 years on the Waffle House real estate team, Russ joined Inspire Brands, where he prioritizes building meaningful and lasting relationships with the Arby's and Sonic franchisee communities to deliver a best-in-class site-selection process.

Vice President of Real Estate, Inspire Brands

Joshua Bova is an experienced market-planning professional specializing in the operations of quick-service restaurants. At KFC, he oversees the brand's end-to-end growth strategy, from evaluating market potential and projecting revenues to analyzing customer segments and identifying portfolio-optimization opportunities. A creative thinker, Josh enjoys improving upon conventional techniques and crafting novel solutions to challenging problems.

Franchise Development Manager, KFC

Randy McBrayer is an innovative leader whose natural curiosities have led to creative and empowering solutions. In 2013, he joined Pizza Hut, where his experience in architecture, new-concept development, prototype management, and vendor acquisition has helped him infuse the company's branding with fresh ideas. Randy's strategic approach to franchisee management, site selection, and portfolio management keeps Pizza Hut growing quickly.

Senior Franchise Development Manager, Pizza Hut

Joe Ferguson has been with Cousins Subs for over 15 years and has more than 20 years of experience in the field of business. In 2011, he became the company's vice president of development and has since spent his time reinventing the brand through a store remodeling program. Joe regularly introduces potential franchise partners to Cousins Subs and works with them through all phases of franchising, including site acquisition, lease negotiations, in-store design, and construction.

Vice President of Development, Cousins Subs
"You have to look at it from the perspective of being a good steward of the franchisees' resources and recognizing that this business is their livelihood. It's our responsibility to make sure we have a very concentrated, data-driven, objective approach."

— Russ Holland, Vice President of Real Estate

"If you're not using analytics and mobile data to gauge sales impact, you're already well behind the curve."

— Josh Bova, Franchise Development Manager

"The unknown for us had always been what happens with carryout cannibalization — until we started working with SiteZeus. Now we're using their tools, doing backtesting, and seeing success."

— Randy McBrayer, Senior Franchise Development Manager

"With changing traffic patterns, it's no longer about the one-, three-, and five-minute drive times. It's impactful to look at the mobile data and see where 60 percent of your customers are coming from two hours before and after visiting your store."

— Joe Ferguson, Vice President of Development