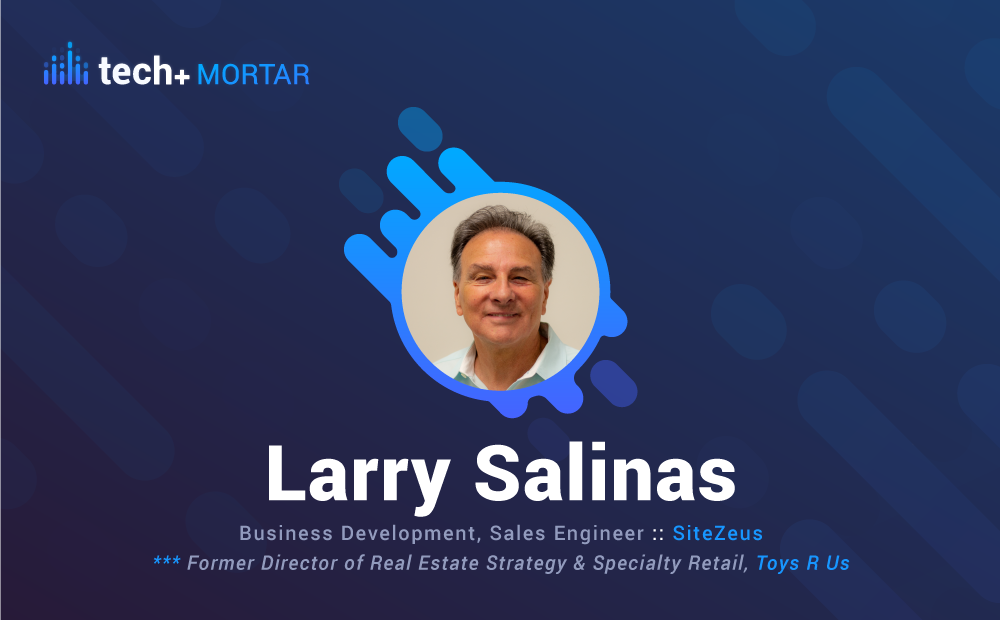 Tech + Mortar Episode 003, September 19, 2018
Larry Salinas, SiteZeus / Toys R Us
Talk Highlights
The evolution of predictive modeling, from drawing maps to machine learning, from the perspective of an industry expert.
Data democratization.
Why mobile data is the new "true trade area."
Speaker Bio
Larry Salinas has participated in the evolution of market research for the retail industry. From hiring internal Cartographers to leveraging the earliest of computers. Larry splits his time between New Jersey & Portland Maine. Larry developed the market research philosophy and team for a $7 Bn multi divisional company, as well as for Toys R Us. He is a rare combination of experience with a grasp of latest technology. Larry has worked with iconic brands such as Whole Foods, Toys R Us, and more.
Show Notes
1:00 – Larry describes the early stages of sales forecasting with Super Markets General
1:58 – How computers changed the forecasting process
3:18 – Larry's manual process of analyzing a trade area with a stop watch and a map
4:38 – The introduction of the analog method
6:28 – Gravity modeling and how the industry changed because of it
7:53 – Limitations of an analog model
8:29 – Challenges with gravity modeling
8:59 – The gradual shift to regression modeling
10:23 – What Larry describes as multi-function modeling
12:09 – Larry discusses his experience in market research at Super Market General
14:11 – The timeline of transitioning between analog, gravity, and regression models
14:40 – The growth of Whole Foods
17:09 – The uses of segmentation data
18:05 – Larry's search for the next leap in data
19:51 – Larry's view on mobile data and how it will change market research
22:59 – The difference between an experienced and inexperienced analyst
26:20 – Rapid Fire Questions
Did you enjoy this post?
Give it a star rating to help us bring you great content!
Average rating / 5. Vote count: