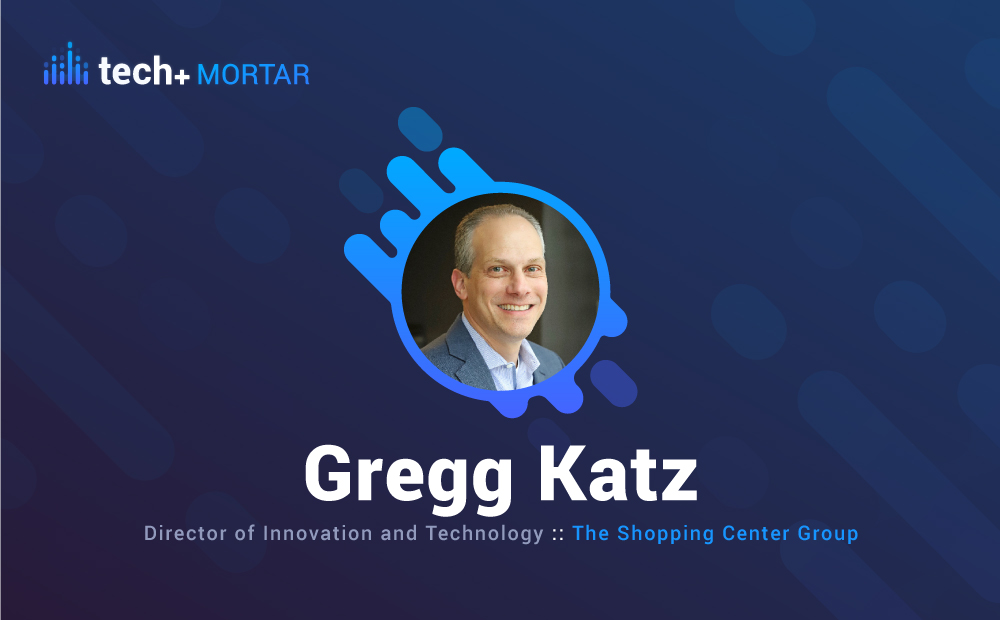 Tech + Mortar Episode 005, October 24, 2018
Gregg Katz, The Shopping Center Group
Talk Highlights
How Gregg's retail background lead him to where he is today, The Shopping Center Group
Why businesses should look at technology, mapping and general infrastructure when building the bridge between technologies and brokers
Headed into The Shopping Center Group with an open mind Gregg starts tackling the job bringing in a new mapping platform
Why is mobile and movement data so important in today's day and age?
Speaker Bio
For twelve years Gregg Katz had worked hand-in-hand with an award-winning GIS & Analytics company, The Shopping Center Group. As the Director of Innovation and Technology there, he has developed a forward way of thinking. This allows him to create an infrastructure for data, analytics, GIS, mobile technology, marketing/branding, and research by leveraging information and tools. This ultimately aligns the company's tactical plans for future growth with the needs of the company's employees and consumers. Not only does Gregg manage his own team of 35 employees but he also does Tenant Representation and Consulting. He consults with national, regional and local companies – AT&T Mobility, The Children's Place and Whole Foods. Utilizing his market expertise and relationships he helps locate, negotiate, and purchase the perfect location for his clients.
Show Notes
0:57 – How Gregg ended up at The Shopping Center Group
7:35 – Out of Hand Burrito Stand Location Deciding
10:15 – Emergence of new technologies
12:34 – Compare and contrast Orlando back in the day to here in 2018
16:01 – College Help: Broker Advice
18:18 – Broker Help: Broker Advice Continued
21:01 – First Initiatives 24:12 – House Renovation
25:29 – Advice to yourself six years ago
29:09 – Mobile and Movement Data
32:52 – Rapid Fire
Did you enjoy this post?
Give it a star rating to help us bring you great content!
Average rating / 5. Vote count: