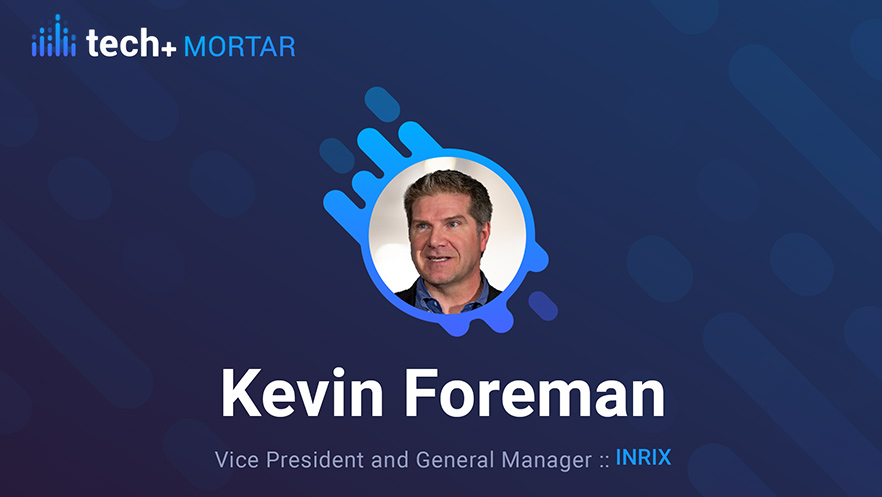 Tech + Mortar Episode 008, December 3, 2018
Kevin Foreman, INRIX
Talk Highlights
Self Driving cars are coming whether you are ready or not.
Pick the industry that is winning and have more fun along the way.
Why does Amazon call it shipping instead of trucking?
Speaker Bio
Kevin Foreman lives with his family in Seattle, WA and serves as a VP at INRIX. INRIX is the global leader in connected cars and transportation intelligence. They provide information such as, which side of the road has more morning traffic?
Not only was Kevin one of the first 1,000 Facebook users and has an MBA from Harvard, but he also hosts legendary "fist bump Fridays" for his thousands of social media followers. Kevin is an excellent story teller and knows how to speak in a language that any audience can understand.
Show Notes
1:41 – Evolution of Kevin's career. From word processing in the 80s to AI in 2018.
3:45 – 3 things we will never solve
5:23 – Advice from Kevin on picking industries that are WINNING.
8:15 – The "takeoff" of certain industries
11:53 – Shipping vs. Trucking. Speaking in terms that your audience understands.
14:02 – Pain is Opportunity. Why selling Advil is a lot easier than multi vitamins.
16:00 – Self-driving Cars - they are coming and coming soon.
18:30 – BMW i9. Was he able to park it without brake?
20:30 – Go Play to Win
22:45 – How to maximize a conference by getting organized.
24:45 – Rapid Fire Questions
Did you enjoy this post?
Give it a star rating to help us bring you great content!
Average rating / 5. Vote count: