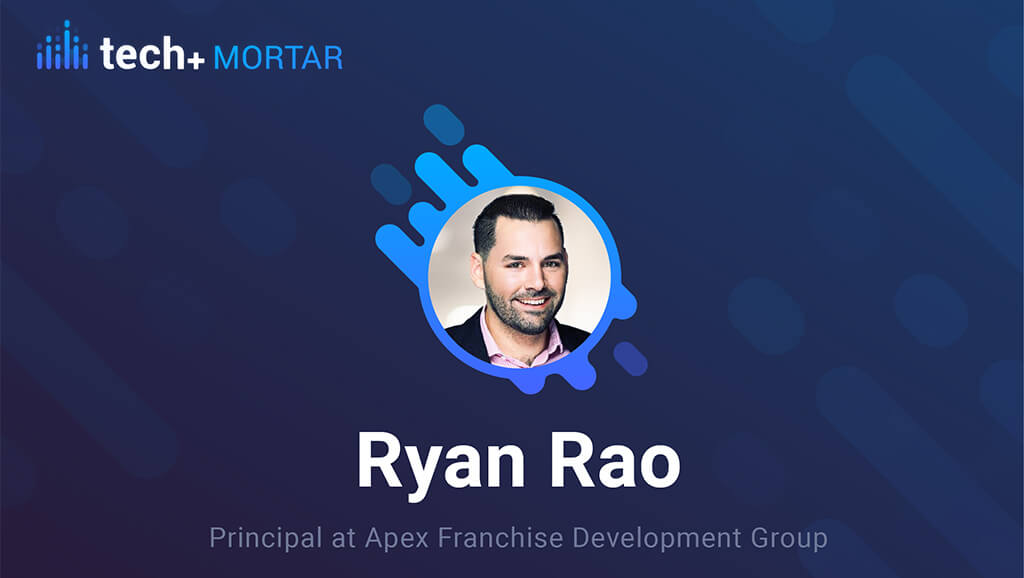 Tech + Mortar Episode 009, January 2, 2019
Ryan Rao, Apex Franchise Development Group
Talk Highlights
Creating an experience so memorable they will tell people about it
Why franchise sales are completely different from other sales
The first question every franchisor needs to ask a potential franchisee
Speaker Bio
Ryan is a franchise development expert who has grown multiple franchise-based businesses into national and international brands. Ryan's passion for franchising grew and developed from his entrepreneurial spirit. Ryan has vast experience in real estate, start-up financing, start-up franchising, franchise development, and the intricacies of growing and developing a brand. He is an avid franchise blogger with thousands of followers. He also serves as a franchise consultant and is a personal growth advocate.
Show Notes
1:18 - Evolution of Ryan's career - from Junior PGA Championship to the Principle at Apex Franchise Development Group.
2:55 - Ryan's father buys a franchise, Romeos Pizza.
4:00 - Lessons learned from his mentor Ryan Rose. Infrastructure for growth!
5:45 - With the importance of experience, any unique or remarkable recent experiences.
7:20 - Best form of marketing is word of mouth.
7:40 - Why not every salesperson can sell franchises.
8:41 - Go to questions in franchise development "interview".
9:50 - Companies like Chick Fil A that limit the number of units per franchise. Opinions? Industry going multi-unit.
11:30 - What are millennial franchisees interested in that others are not?
13:22 - Summary of Ryan's points.
13:52 - Scalability has never been easier
Did you enjoy this post?
Give it a star rating to help us bring you great content!
Average rating 1 / 5. Vote count: 1