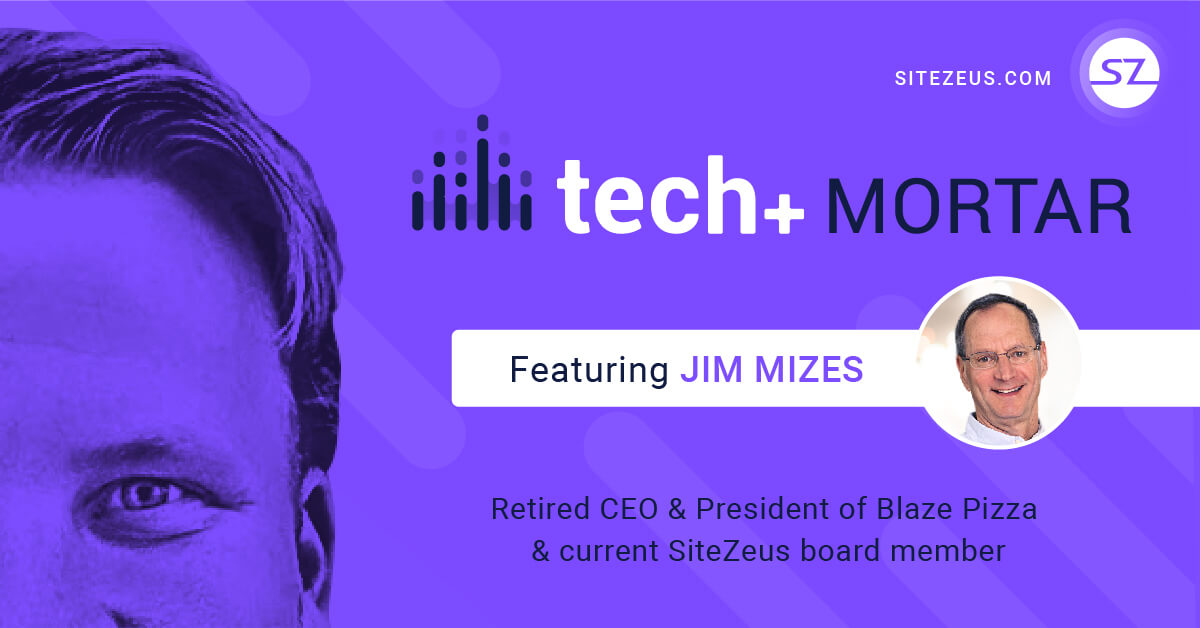 Tech + Mortar Episode 024, October 30, 2019
Jim Mizes, SiteZeus / Blaze Pizza
Talk Highlights
Lessons learned in opening almost a 1000 restaurants
The importance of discovering your "zone of genius" and how it can lead to internal joy
Building a team that is service oriented rather than task oriented
Speaker Bio
Jim Mizes started his career in the retail industry as a young man working at his father's pharmacy. He then went to school and received a degree in accounting and began working typical finance jobs. After realizing that accounting wasn't what brought him joy, Jim joined Taco Bell as a general manager and quickly worked his way up to their VP of operations. In 1989, Jim repositioned the brand's 59, 79, 99 campaign and saw a 60% growth in same store sales. After building up several restaurant brands, Jim finally joined Blaze Pizza where he grew the brand from 2 stores to over 340 in only 6 and a half years.
Jim is now retired and recently joined SiteZeus' board of directors to continue to help retail and restaurant brands grow into new markets.
Show Notes
1:22 – Jim's career story: How he went from working at his father's pharmacy, to getting an accounting degree, to becoming a fast-casual restaurant pioneer.
5:41 – What is the key to reaching ambitious location growth goals?
6:25 – The analogy of how progressively raising a child compares to growing a restaurant business from 4 locations to 400 locations.
7:04 – How Jim landed a promotion at Taco Bell after optimizing one of the industry's first value menu strategies that lead to a 60% growth in sales.
8:23 – When Jim realized he belonged in the operational side of business.
10:07 – Jim's advice to anyone searching for their talent by uncovering their "zone of genius."
11:41 – The secret to building a team that supports restaurant success and growth.
13:29 – Jim relates the level of employee-customer engagement to dogs and cats. How can your store become a "dog store"?
15:04 – The ratio of art and science when scouting new locations then vs. now.
17:10 – What is the key to a third-party delivery company "winning" in the industry?
18:43 – Which parts of scaling a business concerned Jim the most?
20:42 – What separates the good from the great franchisees and operators?
21:28 – Jim mentions the key factor that will helps brands of all sizes grow smoothly.
22:38 – You should be able to update your resume every 6 months – if you cannot add new skills at least once a year, there may be a problem.
23:40 – Quick fire questions
Did you enjoy this post?
Give it a star rating to help us bring you great content!
Average rating / 5. Vote count: