SiteZeus merges with Synuma to create an end-to-end enterprise solution
Offering full-scale support for multi-unit concepts ready to accelerate their growth
TAMPA, Fla., March 29, 2023 — Data-analytics company SiteZeus is merging with franchise-development platform Synuma to help brands grow faster by leveraging comprehensive solutions for franchise sales, site development, and operations management.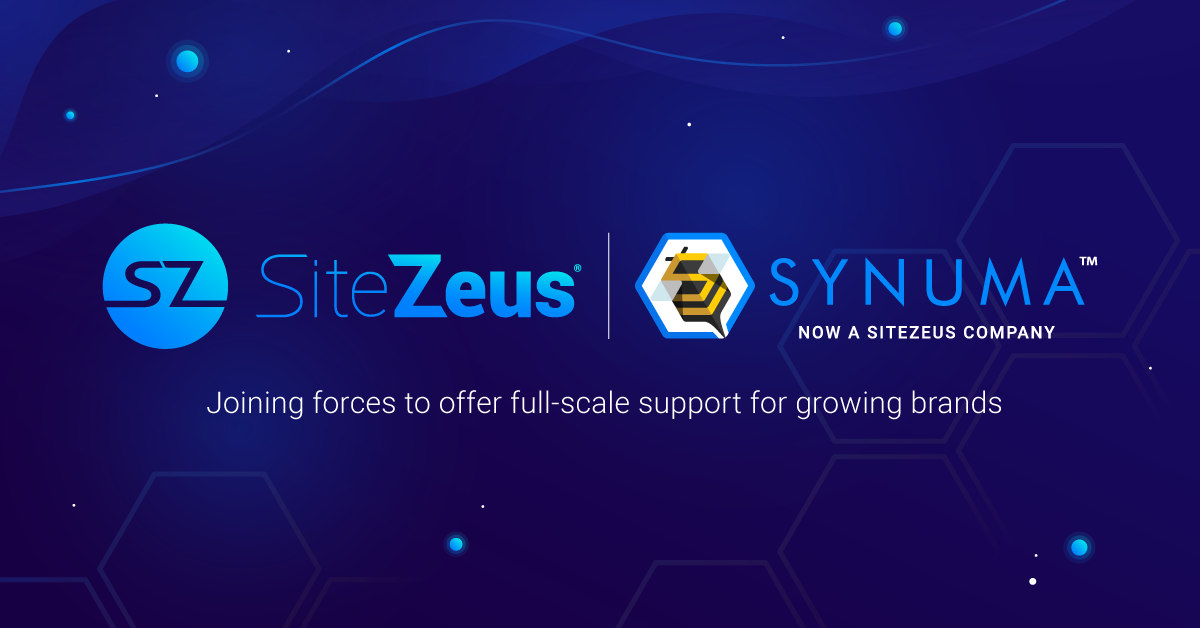 This time-saving technology will take the form of two new products: SiteZeus Sell and SiteZeus Build. These offerings will complement SiteZeus' powerful lineup of location-intelligence solutions, which help real estate teams use custom predictive models to back their decisions with data.
Our merger with Synuma is a very natural one," says SiteZeus' CEO, Hannibal Baldwin. "Our companies specialize in different yet complementary aspects of real estate and development processes, and our clients have been seeking greater integration of these workflows and their corresponding data sets. Our merger not only addresses this demand but also introduces an unparalleled solution to the market: the first-ever platform that supports franchise sales, real estate, development, and operations teams at every stage of growth.
Synuma specializes in project management for the entire development process, from franchise sales and real estate construction to store openings and ongoing operations. Its detailed analyses help companies
find strong franchise candidates,
seamlessly onboard new partners,
oversee all ongoing construction projects,
efficiently open new locations, and
facilitate royalty collection.
Through its franchise-focused CRM software, innovative timeline-based tracking system, custom field assessments, dynamic dashboards, and integrated reporting, the platform simplifies collaboration and empowers brands to complete expansion projects on schedule and within budget.
Synuma was established in 2016 after its founders collaborated in various franchise and technology roles. The team's extensive experience in software development, information technology, civil engineering, and multi-unit franchising inspired them to reshape the way brands pursued growth opportunities.
I'm incredibly excited about the value this merger will bring to both our current and future customers," says Fred Mastropasqua, Synuma's CEO. "Growing brands will greatly benefit from our comprehensive solutions suite, which now encompasses technology for franchise sales, site selection, construction management, targeted marketing, store operations, and portfolio optimization. This partnership uniquely positions us to transform the franchise industry through data-driven insights.
About SiteZeus
SiteZeus empowers real estate, marketing, and operations teams to accelerate growth and maximize profits through data-driven decisions.
The company's comprehensive location-intelligence platform, SiteZeus Locate, uses custom predictive models to help multi-unit brands strategically expand their portfolios. Similarly, SiteZeus Operate enables restaurant managers to increase profit margins by using daily traffic forecasts to optimize staffing and inventory. And with SiteZeus Market's real-time customer segmentation and campaign deployment, businesses can identify, analyze, and target their core customers in just minutes.
For more information on how SiteZeus can help your company grow, contact sales@sitezeus.com.
About Synuma
Founded in 2016, Synuma is a SaaS company helping franchises streamline their development with easy-to-use technology for sales teams, construction managers, and store operators. The company's robust platform includes an industry-specific CRM, lead-sourcing technology, document storage, automated timeline tracking, custom assessments and surveys, sales monitoring, royalty collection, and more.
About SiteZeus
Founded in 2013 and based in Tampa, Florida, SiteZeus is a SaaS company dedicated to helping emerging and established multi-unit businesses accelerate their growth.
Its flagship product, SiteZeus Locate, is a comprehensive location-intelligence platform empowering real estate teams to maximize revenue through strategic expansion and portfolio optimization. It combines a company's store-level information with leading third-party data sets to offer territory management, sales forecasting, white-space analysis, sales impact studies, customer segmentation, and portfolio optimization.
SiteZeus is now applying its innovative, data-driven approach to help marketing teams more efficiently identify, analyze, and reach their target audiences. SiteZeus Market offers customer segmentation based on real-time behavioral data, allowing marketers to truly understand customers' interests and seamlessly launch digital campaigns.
For more information on how SiteZeus can help your company grow, contact info@sitezeus.com.
Did you enjoy this post?
Give it a star rating to help us bring you great content!
Average rating / 5. Vote count: