Did you miss our breakout session Man vs. Machine at this year's Restaurant Leadership Conference?
We take a deep dive into big data and artificial intelligence and its effect on the restaurant industry. In case you missed it, we've put together this video recap, filled with golden nuggets of information from the industry's best. That includes Keenan Baldwin, Co-CEO & Co-Founder of SiteZeus, Steven Roberts, Founder & President of Restaurant Magic, Kevin Foreman, GM for GeoAnalytics with INRIX, Inc, and Joel Doherty, Global Head of Strategy and Business Development for Epson.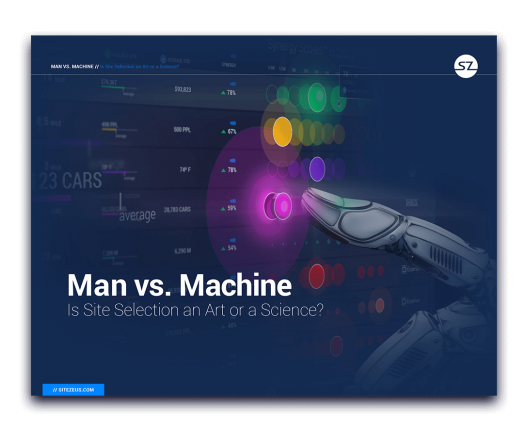 What's inside?
Is selecting sites more of an art or a science?
Science and automation have advanced
Poor calculations of success
Art is still critical
Why is science so important?
Man powered by machine
Download this free resource
Tell us a bit about yourself and we'll get you a copy of the resource.
Want to learn more?
To speak to a SiteZeus representative call us at 800.611.0738 or email us at info@sitezeus.com. For a live demo, click below.