INRIX site selection: Taking the risk out of retail real-estate decisions
Forward thinking retailers are increasingly embracing big data in their business decisions when choosing new store locations. Using INRIX big data, site-selection companies help retailers pinpoint their target demographics and see where shoppers are coming from and analyze the potential profitability of millions of retail locations.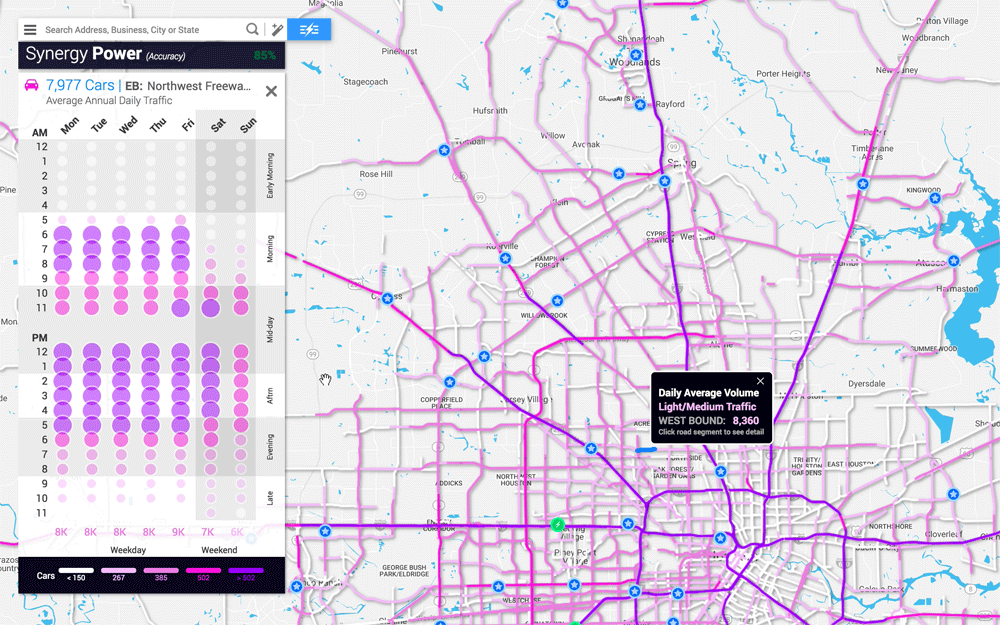 Finding right-hand turns and traffic flow
In retail, right-hand driving turns are easy to perform, and left-hand turns are more difficult and discourage drivers. INRIX gives retailers the most accurate data on the typical number of vehicles driving in each direction on a street throughout the day, including drivers that have right-hand access to their parking lots. This data tells retailers the typical number of vehicles on road segments in 15-minute intervals with unprecedented accuracy. Using this information, retailers can know exactly how much traffic flow will change around their location throughout the day, week, month, and year.
SiteZeus, a location intelligence company, leverages artificial intelligence (AI) and machine learning to visualize, interpret, and report on the INRIX Traffic Volume. Keenan Baldwin, Cofounder & Co-CEO says,
INRIX data has allowed our retail clients to accurately view the true trade area for every site. On top of telling you how many vehicles are in front your locations, we break it down by hour of day and inject this data into our predictive models for increased sales forecasting accuracy."
Some of SiteZeus' clients include Metro Diner and Subway®. INRIX works with some of the biggest site-selection companies in the industry, including Buxton, eSite Analytics, IdealSpot, Locate.ai, Megalytics, and SiteZeus®. Their platforms integrate INRIX roadway traffic and volume data with other datasets like demographics, population growth, crime rates, and additional attributes that are important in retail site selection. INRIX data and services help model sales forecasts at thousands of potential sites, allowing businesses of all sizes to quickly compare candidate locations to ensure they are making the best real estate investment decisions.
Finding where people are driving and shopping
Retailers and restaurateurs can now understand markets based on purchase preferences. IdealSpot uses INRIX data to help their clients, such as Bird's Barbershop and Plucker's Wing Bar, find the best possible locations for their expanding businesses. "INRIX is the best in this space for providing accurate, actionable intelligence for traffic and volume counts. By using big data, retailers are able to see what people are buying and where they are shopping." Said Brian Farn, Content Marketing Manager at IdealSpot.
INRIX provides anonymous GPS data points on the origin-destination of millions of trips per day, giving retailers insight on where their customers are coming from and going to, when and where they're traveling, and their demographic information. By snapping driver origins-demographic data, retailers can know who will actually be their customers and take the risk out of their ROI calculations.
eSite Analytics, whose customers include 5 Guys Burgers & Fries and Freddy's Frozen Custard, also use INRIX data for their site selection. Grant Irving, VP of Sales at eSite Analytics says, "[INRIX] has changed how we view customers, trade areas, cannibalization, and forecast performance at different locations. Their technology helps us go from guessing to understanding what is actually happening in each market."
Finding a site's true trade area
Historically, determining the trade area and potential profitability of store locations required manually traffic counts (i.e. tubes on the road) or costly and biased intercept surveys. These methods gave highly inaccurate generalizations of traffic flow, with no insight into who drivers are or where they were going.
Traditional modeling companies use antiquated static data from annual DOT counts that is not reflective of what is actually happening in a market. Locate.ai creates predictive models for retailers to forecast sales at new locations that have not opened yet.
Big data is the fuel for our A.I. models and the accuracy of our models depends on the quality of the data we put into them. INRIX provides the most up-to-date, highly granular data which improves our predictive modeling."

Joe Lee, Cofounder and CEO of Locate.ai
INRIX allows retailers to understand who, where, when and how customers are coming to each candidate site, giving a full picture of site profitability instantly. Retailers can analyze real-time, historical and predictive consumer driving patterns data, providing the edge businesses need to make intelligent real estate decisions. Megalytics uses INRIX data to determine ideal tenants for vacant spots based on a number of data sources, anchor tenant analysis, cannibalization and also whether a tenant is a traffic generator based on their customer journey.  Megalytics, whose clients include Guggenheim Real Estate Partners, assist companies such as Burger King, Jiffy Lube, and Yolk to determine their true trade area by combining geofencing with credit card information. "The old strategy of setting a trade area by radius rings or drive times is gone, big data has changed the site-selection industry completely," said Donna Salvatore, CEO & Founder of Megalytics.
The future of site selection
The future of retail site selection will only continue to be enhanced by the use of big data models using predictive AI. "Any organization not using A.I. in site selection is living in the 90's and hurting the industry. As new technology comes out brands need to be on the cutting edge with the latest tools if they want to be successful," added Locate.ai's Lee.
Leave doubt in the past with explainable A.I. (XAI)," said SiteZeus' Keenan Baldwin. "Sophisticated solution providers like SiteZeus can quite literally tell you the monetary impact this amazing dataset has on any potential location."
As big data expands, so does the level of detail we can get from it, and the insights we can draw. "Everything is moving toward big data, and that doesn't mean just collecting a mass amount of data but using big data to get actionable insights for better business decisions," said IdealSpot's Farn.
Empower your team with data-driven insights for more profitable decisions.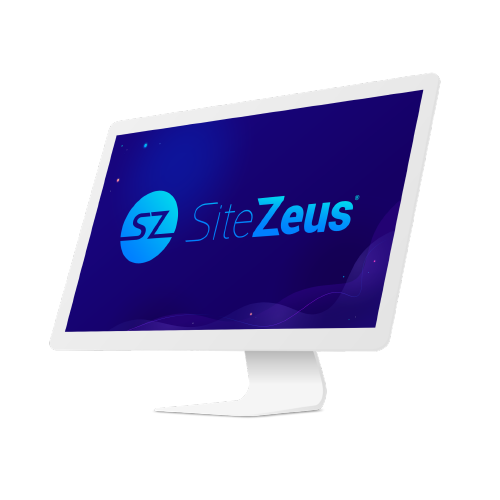 Did you enjoy this post?
Give it a star rating to help us bring you great content!
Average rating / 5. Vote count: