SiteZeus adds Black Box Intelligence to its super-charged data stack
TAMPA, Fla. (May 10, 2017) — SiteZeus®, the leading location intelligence platform for restaurants and retailers, has added Black Box Intelligence, a TDn2K company, to its data pipeline. The new partnership will offer valuable information and actionable insights to restaurant brands of all kinds.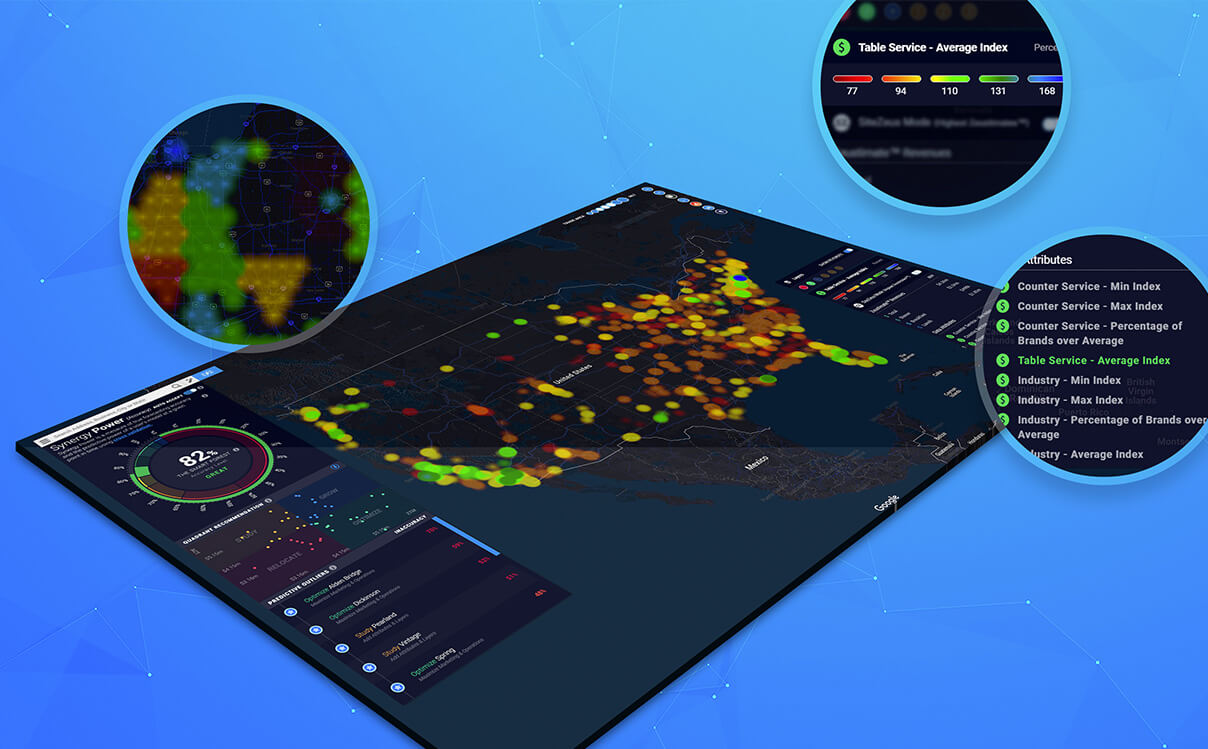 Tampa, FL —May 11th, 2017 SiteZeus®, the leading SaaS location intelligence platform, has joined forces with a powerful data provider that specializes in leveraging average unit volume data for restaurant developers. This marks the third official data partner in SiteZeus' Olympus Data Exchange. Black Box Intelligence, a TDn2K company, adds an unprecedented dimension of actionable metrics that will help users make the most informed data-based decisions.
The information Black Box Intelligence provides helps brands decide in which markets to prioritize development by benchmarking them relative to peers in any region. This data covers three categories, aggregate industry, table-serve and counter-serve.
"We couldn't be more enthusiastic about this partnership with Black Box Intelligence. It's really a perfect fit for our platform, offering incredibly useful and precise metrics to our food-service clients. Their Market Index is exactly what we look for in data partnerships; vast yet precise, it pushes our insight abilities to the next level." Keenan Baldwin, Co-CEO and Co-Founder of SiteZeus said.
"TDn2K is thrilled to be partnering with SiteZeus and their best-in-class platform. Their location technology system is the ideal application to integrate our Black Box Intelligence Market Index, powered by sales and traffic data from more than 27,000 restaurant units and representing over $67 billion in annual sales revenue" said Bob Rycroft, Managing Director at TDn2K.
The Olympus Data Exchange is one of a kind, a data agnostic pipeline that integrates the world's top data providers for custom, user-driven analysis. Black Box Intelligence is the latest addition to the list, which already this year made releases for INRIX and UberMedia.
Restaurant brands can capitalize on this partnership by utilizing the SiteZeus Synergy platform —now enriched with Black Box Intelligence— to determine what markets show the most promise for their business.
For more information, visit https://sitezeus.com/data/#restaurant-performance
Attend a demonstration webinar on May 18th, 2017 at 2 pm EST for a walk through of the platform. <- This webinar has ended, but a recording is available.
About SiteZeus
SiteZeus is a location intelligence company using fast, accurate predictive models to help emerging and established multi-unit brands enhance their market planning. Companies across multiple industries utilize the platform to confidently expand and optimize their portfolios for maximum revenue.
SiteZeus combines a brand's store-level information with leading third-party data sets to offer sales forecasting, white space analysis, sales and closure impact studies, portfolio optimization, and territory management. The company is now applying the same data-driven approach to help marketing teams uncover hidden opportunities and more effectively target customers and prospects through real-time customer segmentation.
For more information on how SiteZeus can help your company grow, contact info@sitezeus.com.
About TDn2K
TDn2K (Transforming Data into Knowledge) is the parent company of People Report, Black Box Intelligence and White Box Social Intelligence. People Report provides service-sector human capital and workforce analytics for its members on a monthly basis. Black Box Intelligence provides weekly financial and market level data for the restaurant industry. White Box Social Intelligence delivers consumer insights and reveals online brand health. TDn2K membership represents 38,000 restaurant units, 2.3 million employees, and $67 billion in sales. They are also the producers of leading restaurant industry events including the Global Best Practices Conference held annually each January in Dallas, Texas.
Did you enjoy this post?
Give it a star rating to help us bring you great content!
Average rating / 5. Vote count: