SiteZeus and Environics Analytics partner to augment leading location intelligence platform
TAMPA, Fla. (October 19, 2017) — SiteZeus, a pioneer in site selection and location intelligence technology, announced a partnership agreement today with Environics Analytics, one of North America's leading data and analytics companies. The deal brings together best-in-class data with SiteZeus' innovative, artificial intelligence (AI) based platform, to provide advanced market planning capabilities for restaurants, retailers, and convenience store brands, among other industries with a multi-unit presence.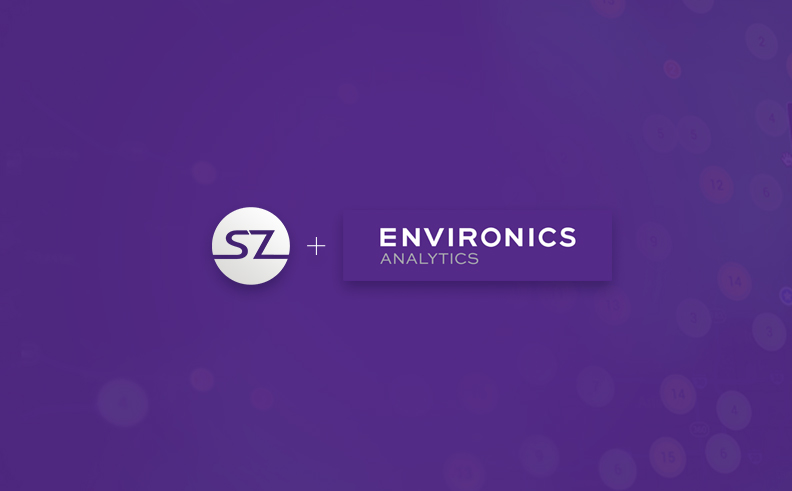 Through the partnership, SiteZeus will offer authoritative demographic data to its base subscribers, allowing brands, brokers, and developers to evaluate their markets and trade areas with the most up-to-date information available in a mapping platform. Users will be able to visualize their ideal customers across the United States, as well as understand which blend of demographics drives higher revenues. Environics Analytics' data augmentation to The Olympus Data Exchange, SiteZeus' proprietary data stack, will also offer add-on packages, including data developed by Environics Analytics and its industry-leading partners Claritas and Infogroup, covering consumer spending, businesses, retail potential and PRIZM Premier segmentation.
SiteZeus, which is pioneering the use of AI and machine learning in the commercial real estate industry, offers users services such as site selection, sales forecasting, competitive analysis, network optimization and predictive modeling. Environics Analytics has extensive experience providing thousands of organizations with high-quality data and analytics services—from customer profiling and segmentation to network optimization, market potential analysis and analytics-based consulting.
Today's businesses recognize the importance of quality data to inform their decisions and achieve the results they want," says Jan Kestle, president and CEO of Environics Analytics. We've built a reputation for rigorous methodology and quality in developing our databases. So we're pleased to make our consumer and business data more available to the restaurant, retail and real estate industries through SiteZeus' innovative platform. Users will benefit from the new data to make even better location-based decisions."
"We are excited to announce Environics Analytics as one of our core data partners," says Keenan Baldwin, Co-Founder and Co-CEO of SiteZeus. "Data is the foundation of any location intelligence tool. This partnership allows SiteZeus to continue to focus on delivering a best-in-class location intelligence platform in conjunction with world-class data partners. Ultimately, this provides both SiteZeus and Environics Analytics' customers expanded data, tools and resources to leverage across multiple verticals."
Environics Analytics joins a list of distinguished data providers that are partnering with SiteZeus, including Google, INRIX, UberMedia, Restaurant Trends, CAP Locations and Black Box Intelligence.
To showcase the value of this partnership, SiteZeus and Environics Analytics will host an hour-long webinar on November 30, 2017, at 2:00 PM EST. This event has ended, but here's a recording.
About SiteZeus
SiteZeus is a location intelligence company using fast, accurate predictive models to help emerging and established multi-unit brands enhance their market planning. Companies across multiple industries utilize the platform to confidently expand and optimize their portfolios for maximum revenue.
SiteZeus combines a brand's store-level information with leading third-party data sets to offer sales forecasting, white space analysis, sales and closure impact studies, portfolio optimization, and territory management. The company is now applying the same data-driven approach to help marketing teams uncover hidden opportunities and more effectively target customers and prospects through real-time customer segmentation.
For more information on how SiteZeus can help your company grow, contact info@sitezeus.com.
About Environics Analytics
One of North America's premier marketing and analytical services companies, Environics Analytics helps customers turn data and analytics into insight, strategy and results. Established in 2003, EA offers the full range of analytical services—from data supplier to strategic consultancy—and provides authoritative reports, software and modeling approaches to solve business challenges. Its team of 200 marketers, modelers and geographers help organizations identify their business problems, develop data-driven solutions and achieve success along every phase of their analytics journey. EA is the exclusive distributor of Claritas site location data and services. To learn more, please visit environicsanalytics.com.
Did you enjoy this post?
Give it a star rating to help us bring you great content!
Average rating / 5. Vote count: