SiteZeus named #1 property search and mapping platform for CRE at 2019 real estate technology award (#RETAS)
TAMPA, Fla. (September 16, 2019) — SiteZeus, the location intelligence technology company that delivers A.I. powered predictive modeling solutions, is pleased to announce that they are a Sixth Annual Real Estate Tech Awards (#RETAS) winner in the Property Search and Mapping, category, presented by CREtech, the largest event, data and content platform in the commercial real estate tech industry.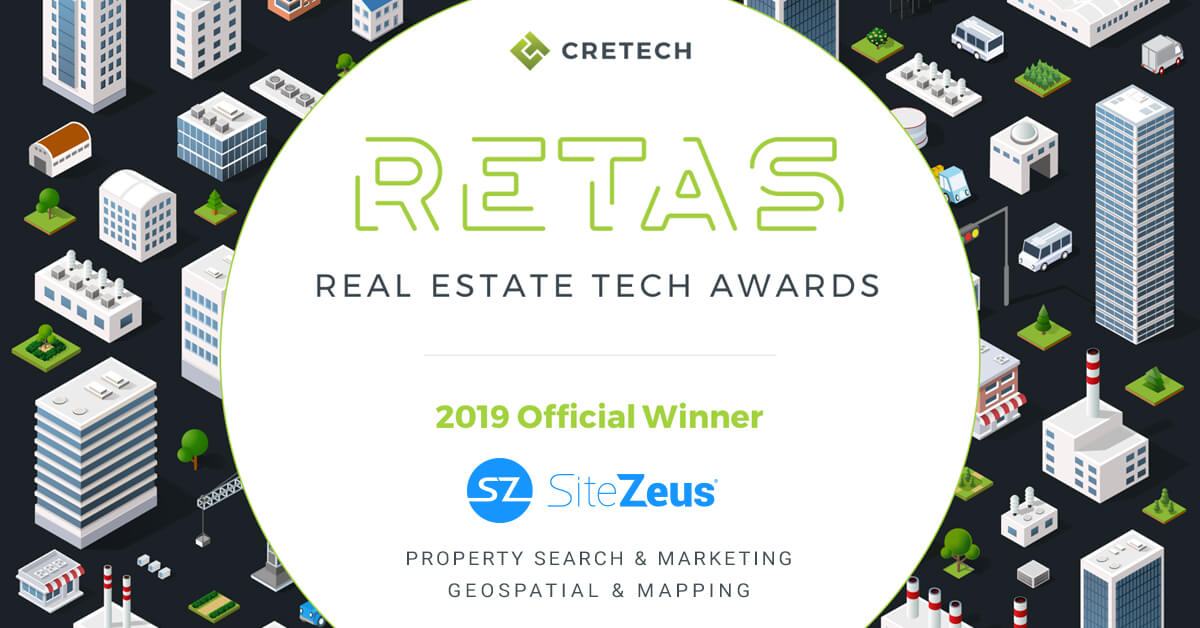 The Real Estate Tech Awards (#RETAS) are the leading international award honoring excellence in commercial real estate tech. The awards recognize the most cutting-edge companies who have played an integral role in advancing tech in the industry throughout the year — backed by the leading VCs, angel investors, and thought leaders in the commercial real estate tech industry. SiteZeus was carefully selected as a winner by the #RETAS elite panel of judges.

About SiteZeus
SiteZeus is a location intelligence company using fast, accurate predictive models to help emerging and established multi-unit brands enhance their market planning. Companies across multiple industries utilize the platform to confidently expand and optimize their portfolios for maximum revenue.
SiteZeus combines a brand's store-level information with leading third-party data sets to offer sales forecasting, white space analysis, sales and closure impact studies, portfolio optimization, and territory management. The company is now applying the same data-driven approach to help marketing teams uncover hidden opportunities and more effectively target customers and prospects through real-time customer segmentation.
For more information on how SiteZeus can help your company grow, contact info@sitezeus.com.
About CREtech
CREtech is the leading media and events company servicing the greater real estate and technology community. Our mission at CREtech is to connect the real estate and tech sector by hosting engaging conferences, publishing research, and content. CREtech is owned and operated by The News Funnel, the leading content, connectivity, and event platform devoted to the commercial real estate industry.
Did you enjoy this post?
Give it a star rating to help us bring you great content!
Average rating / 5. Vote count: