SiteZeus wins first place at Chicago Machine Learning Venture Capital Summit 2018 Pitch Competition
TAMPA, Fla. (April 27, 2018) — After a year of major growth, SiteZeus, the leading SaaS site-selection platform for retail industries, is taking home another win. SiteZeus CTO Chuck Cooper represented the startup at the second annual Chicago Machine Learning VC Summit where he competed against other machine-learning companies in a pitch to a crowd of entrepreneurs, developers and prospective customers. The event hosted over 600 attendees and 20 speakers in 2017.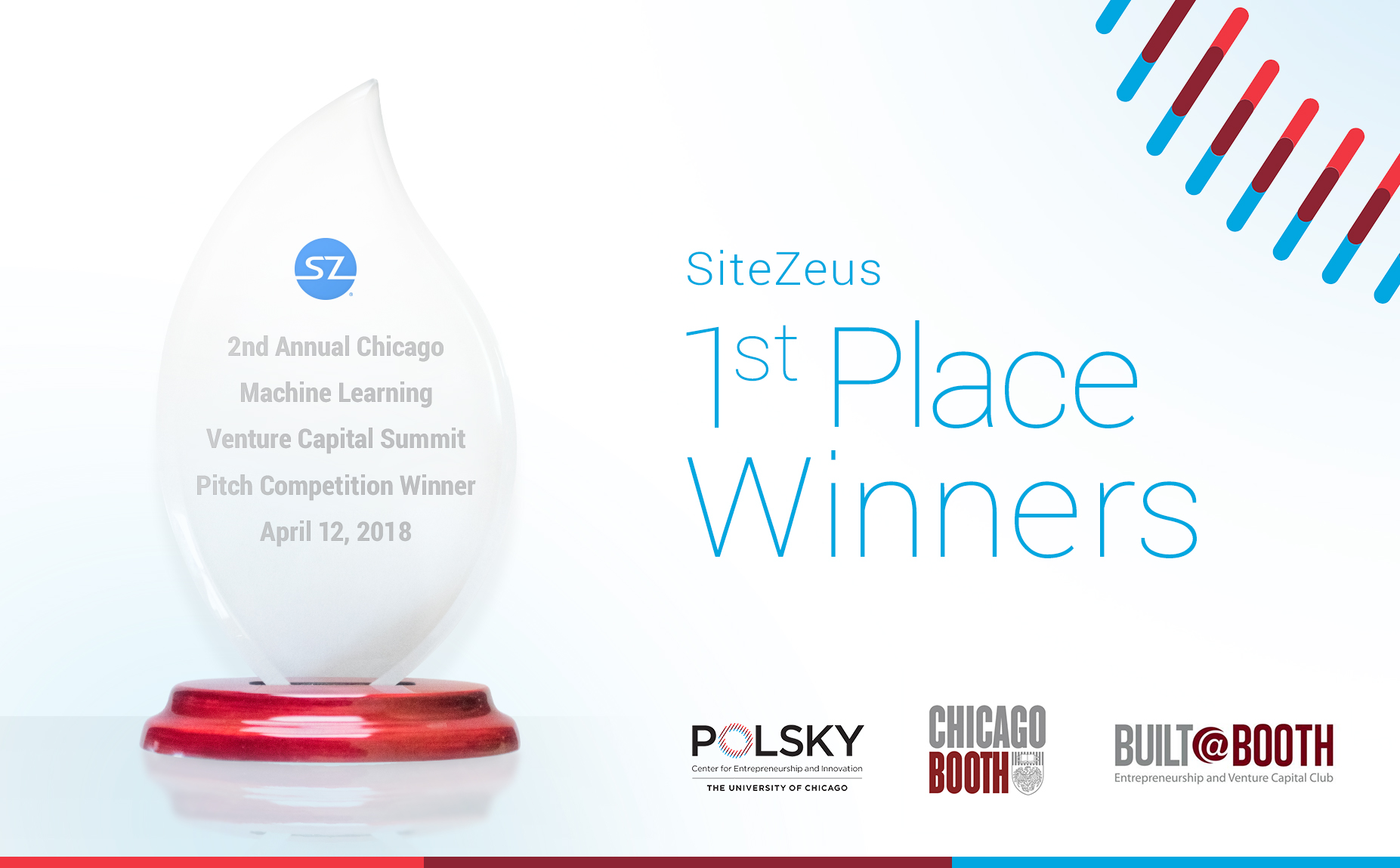 The top prize includes a sit down with Hyde Park Venture Partners, an early-stage venture capital firm focused on high-growth, a mentorship appointment with Ian Drury, General Partner of OCA Ventures, and a TechNexus Clubhouse Keys for 3 months.
Cooper, who joined SiteZeus in August 2016, has been integral in managing and promoting growth for the company.
Having worked at several startups— seeing some failures as well as some successes, which include helping two rapidly growing startups have successful IPOs— I've learned valuable lessons over the decades about what to do and, more importantly sometimes, what not to do,"
Cooper said. This recognition, though a major achievement for the expanding team, is hardly the first: in 2018 already, SiteZeus has been named amongst the Top 10 Best Startups in Tampa, FL by the Tech Tribune. In 2017, SiteZeus received the grand prize in Florida Venture Forum's Early Stage Capital Conference, as well as bronze Stevie Awards in "Best Software Product of the Year" and "Tech Startup of the Year".
The award-winning platform is proprietary, and rapidly rising in popularity, Cooper said, because it is disrupting a market where the primary options for confident site selection are expensive, outsourced and time-consuming.
To hire a team that will license the tools and data bundles to then build a model from scratch— it could take years to perfect. SiteZeus does all that groundwork to make the process easy, transparent and more than anything, reliable,"

Chuck Cooper | CTO, SiteZeus
Though SiteZeus currently focuses on using predictive analytics for site selection and portfolio optimization in the United States, Cooper is confident that there is plenty of room for expanding the platform's capabilities.
"There's an incredible market opportunity in front of us. Next, we're looking to go global, and we're building out the platform to support other groups within an organization, from operations to marketing," Cooper said. "There's so much potential here."
About SiteZeus
SiteZeus is a location intelligence company using fast, accurate predictive models to help emerging and established multi-unit brands enhance their market planning. Companies across multiple industries utilize the platform to confidently expand and optimize their portfolios for maximum revenue.
SiteZeus combines a brand's store-level information with leading third-party data sets to offer sales forecasting, white space analysis, sales and closure impact studies, portfolio optimization, and territory management. The company is now applying the same data-driven approach to help marketing teams uncover hidden opportunities and more effectively target customers and prospects through real-time customer segmentation.
For more information on how SiteZeus can help your company grow, contact info@sitezeus.com.
About The Chicago Machine Learning Venture Capital Summer 2018
The Polsky Center for Entrepreneurship and Innovation, Built@Booth, ad Booth School of Business from the University of Chicago hosted their second annual Machine Learning Venture Capital Summit on April 12, 2018. Under one roof, they bring together venture capitalists, Machine Learning startups, and cutting-edge researchers interested in Machine Learning applications and commercialization. In 2017, the conference attracted 600+ attendees and hosted nearly 20 speakers.
Did you enjoy this post?
Give it a star rating to help us bring you great content!
Average rating / 5. Vote count: