Hear from SiteZeus at RLC 2023
Don't miss our forum on territory management and third-party-delivery data
The Restaurant Leadership Conference is where industry leaders from across the country come together to exchange ideas and close deals. Featuring more than 100 keynote speakers and 1,350 senior executives, this trade show will offer the insights you need to identify the best opportunities for your brand.
This year's event will be held from April 16 to 19 at the JW Marriott Phoenix Desert Ridge Resort and Spa in Phoenix, Arizona. Meet us there!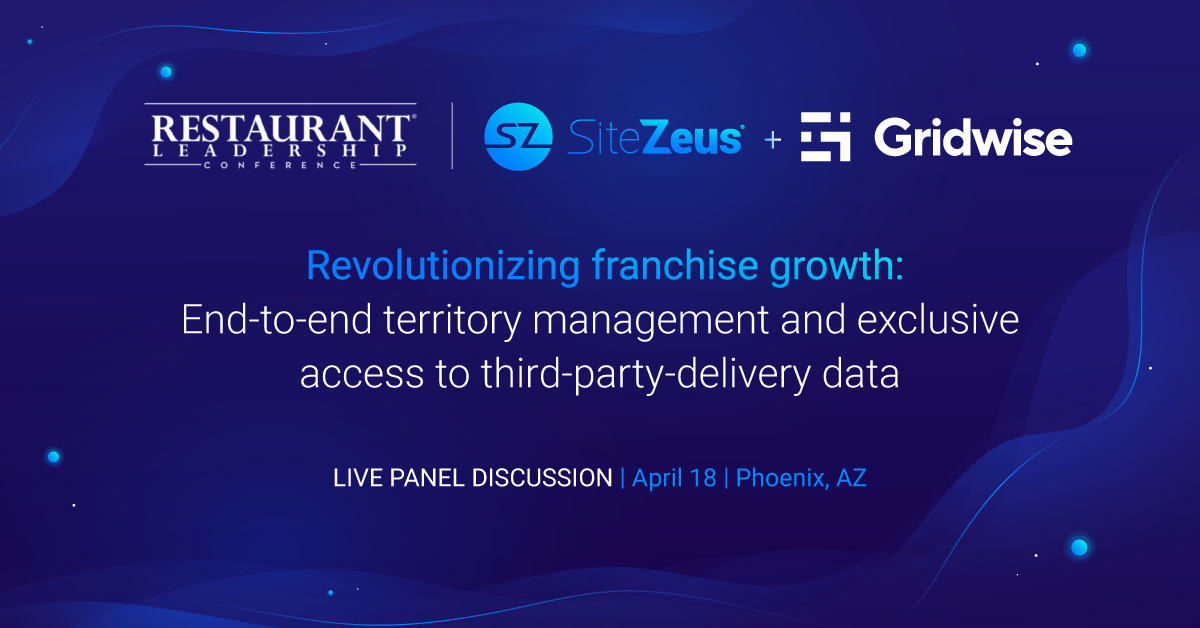 Stay on top of the latest trends
Attend our innovation forum at 11:45 a.m. on Tuesday, April 18, to learn how new technology integrations are transforming the franchise landscape.
Speakers
Jim Mizes — former CEO | Blaze Pizza
Russ Grant — Vice President, Revenue | Gridwise
Dannon Shiff — Senior Vice President, Real Estate | Dave's Hot Chicken
Hannibal Baldwin — CEO and Cofounder | SiteZeus
Sean Ryan — Vice President of Operations | SiteZeus
Topics
Take a closer look
Stop by Charging Station 2 to refuel your devices and supercharge your growth strategy. The SiteZeus team will be giving live demonstrations of the platform so you can see the power of our analytics firsthand. You can also schedule a private meeting to discuss how our solutions can support your brand's specific goals.
Explore new possibilities
A lot has changed since last year! In addition to expanding upon our location-intelligence offerings, we've launched products that drive data-backed decisions for marketing and operations teams.
Interested in seeing the latest and greatest? Share your details below, and we'll contact you to find a time that works best.
Did you enjoy this post?
Give it a star rating to help us bring you great content!
Average rating / 5. Vote count: