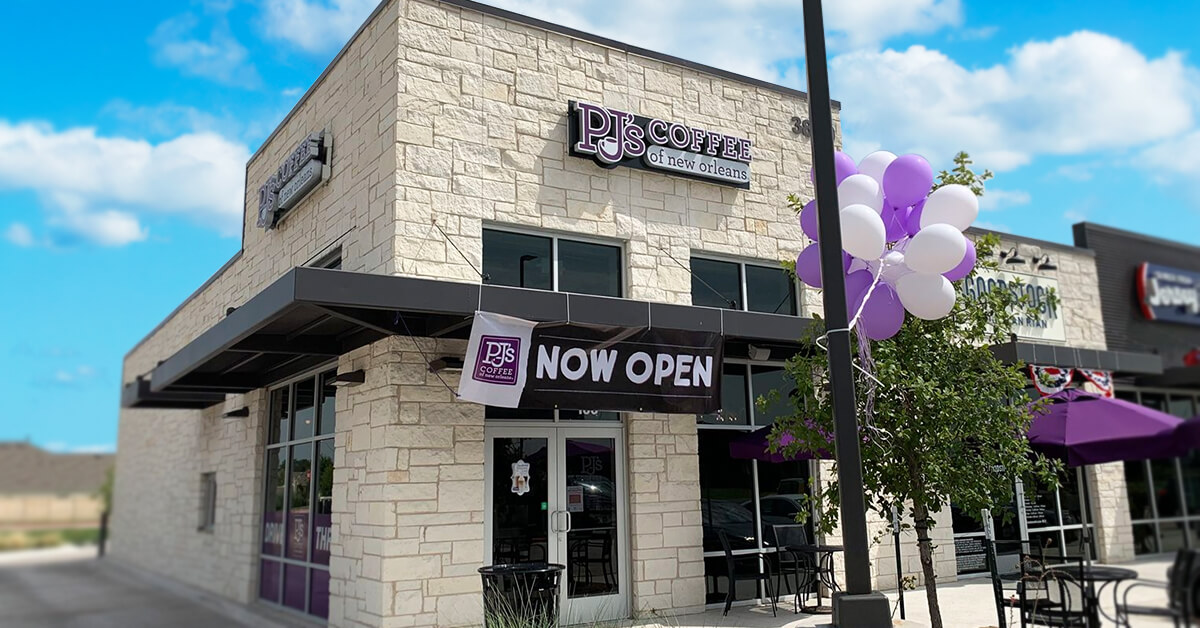 PJ's Coffee of New Orleans, part of the Ballard Brands hospitality and foodservice company, has been serving customers small-batch, specialty arabica coffee since 1978. In an enormous industry, the brand sets itself apart through a focus on craftsmanship and southern hospitality — and with 125 new locations in development, it's growing at an astonishing pace.
The brand
The brand's real estate professionals need to vet franchisees' proposed sites, preserve sales at existing sites, and keep the development process running smoothly. But they don't have enough time to visit each site, speak with all the brokers, and sort through endless paperwork for the needed information. So how has PJ's Coffee made sure not to sacrifice quality research and confident decisions for speed?
Real Estate Manager Ryan Robin knew attaining this balance would require an innovative approach to market planning. Luckily, he was able to leverage SiteZeus market-planning platform for on-demand location intelligence and expert support.
The strategy
Ryan combined his 40+ years of experience in the real estate industry as a broker, developer, and corporate representative with SiteZeus' scientific insights for an unbeatable partnership that he fondly describes as a marriage.
I don't think I've ever talked up an analytical database as much as I have SiteZeus. It's been working so beautifully, it really has."

Ryan Robin, Real Estate Manager
Adopting SiteZeus' A.I.-powered analytics has enabled PJ's Coffee to expedite its site-approval process, protect its franchisees' investments, avoid legal liabilities, streamline recordkeeping, and save time.
Exploring new markets
PJ's Coffee collaborated with SiteZeus' support team to maximize the platform's insights. Importing additional store-level data produced a highly accurate model that enabled the real estate team to get instant sales projections for any number of sites.
Ryan says that thanks to today's predictive analytics platforms and built-in reports, he doesn't have to travel as much as he used to:
I used to have to go see every single site. In some cases, it was Monday through Friday night to go to three different states. I had a huge briefcase full of flyers on sites and areas, and it seemed like such a waste."
By automating the number-crunching and reporting through SiteZeus, the PJ's Coffee team has more time to give the company's franchisees personalized support. "The majority of my job is actually interacting with the franchisees and working on their development schedules, helping them through that system," Ryan said.
Maximizing sales
PJ's Coffee prides itself on putting franchisees first, which is why its real estate team uses SiteZeus to see how opening a new site could affect the sales of an existing store nearby.
After running an impact study on a new site in Gonzales, Louisiana, they learned there would likely be high cannibalization of another franchisee's sales. Unfortunately, the proposed site had already been approved by the real estate committee.
It turned out there would be a 23.15% impact on the existing store," said Ryan. "I notified the existing franchisee, who objected and asked, 'What do we do?' I said, 'You can request an impact study.' "
PJ's Coffee worked with the new franchisee to find an even better location, ending up with a build-to-suit property located on a prime corner with below-average rent.
SiteZeus' predictive analytics helped the brand keep both franchisees happy and improve the company's overall market success. It also shaped the real estate team's development process; with this case illustrating that a two-mile protection radius would not always be sufficient, they decided to integrate sales impact studies into their research.
Protecting and managing data
As PJ's Coffee continues to grow, so will its data sets. With lots of sensitive information that needs secured and organized, the real estate team turns to SiteZeus' custom user roles and pin visualizations to get the job done.
I was going to probably five different spreadsheets from three different departments, and I was never getting information in a timely manner, and I felt like I was so bogged down. Those green bolt trackers are really helpful, and they're keeping us out of legal liability situations."
The team works with 4 master brokers and 48 local brokers on projects in various stages of development, so staying organized is key. By adding notes to prospective sites pinned on the map, they can easily reference each location's contacts and status.
They also leverage SiteZeus to protect the brand's data by limiting who can view and edit it through custom user roles and territories. Maintaining complete, unaltered data enables the real estate committee to make informed site-selection decisions and ensure proper spacing.
Finding unwavering support
The real estate team at PJ's Coffee has experienced the dedication of SiteZeus' support specialists firsthand. Working together, they've enhanced the brand's model with additional data and drawn on their creativity to tackle unique projects. With its SiteZeus subscription, PJ's Coffee has gained a business partner eager to understand its goals and help meet them.
SiteZeus' customer service is fantastic. Olivia seems to understand exactly where I'm going with SiteZeus. I've called upon her late at night, and I know that we're in a different time zone, but she's always responded, even after her five o'clock."
The results
The brand's relationship with SiteZeus is thriving. Initially a bit skeptical of the technology, Ryan is now its biggest fan, having achieved the perfect blend of intuition and data behind his decisions.
As PJ's Coffee takes on new opportunities and tackles new challenges, its team will provide feedback to guide SiteZeus' product development and create models for Ballard Brands' other concepts as they mature. PJ's Coffee can now grow faster and stronger than ever, knowing SiteZeus is always by its side.
Opportunity strikes! Electrify your brand's growth with SiteZues' A.I.-powered platform.
The next success story could be yours — schedule a demo to see SiteZeus live.
Did you enjoy this post?
Give it a star rating to help us bring you great content!
Average rating / 5. Vote count:
No votes so far! Be the first to rate this post.