The top 10 marketing challenges of 2023 (and how to overcome them)
From setting goals to securing leads: how to make sure nothing stands between you and your target ROI
Developing clear goals

One of the biggest problems marketers face is not having a clear set of goals and a well-defined strategy to achieve them. Without a plan, it's easy to get lost in the noise of the competition and fail to reach your target audience. On the other hand, uniting behind clear objectives will boost your team's collaboration and morale, forming an environment where creativity can flourish.

TIPS:

That said, take some time to define your goals and break them down into actionable steps. When setting goals, it's important to ensure they're Specific, Measurable, Attainable, Relevant, and Time-bound (SMART). SMART goals are an effective way to ensure that your marketing efforts are focused and measurable.

For example, instead of setting a vague goal like "increase website traffic," aim to "increase website traffic by 25 percent through targeted SEO and social media campaigns within the next three months." By dividing your goals into specific, measurable targets, you can better understand the impact of your marketing efforts and adjust your approach accordingly.

Not sure where to start? Consider using customer-segmentation tools like SiteZeus Market, which can help you identify your target audience and create a campaign strategy that aligns with your business objectives.

Working with limited resources

There's no denying that marketing can be expensive, and not every company has a big budget to work with. But don't let your brand's success be tied to a bank account. Instead, focus on cost-effective strategies like social media, email, and content marketing. These tactics can be just as effective as traditional advertising methods, getting you the same results at a better price point.

TIPS:

Prioritize your projects

When you're managing multiple marketing channels on a limited budget, it's important to work efficiently by prioritizing initiatives. With a clear understanding of projects' ROI, you can make data-driven decisions and allocate your budget more effectively. Start by identifying which channels your business has had the most success with and focus your resources there. For example, you may find that creating shareable social media content or writing informative blog posts are great ways to promote your brand without breaking the bank.

Do more with less

Feeling like none of your campaigns are giving the ROI you'd like? Then it's time to stretch your budget by optimizing your efforts. It sounds tricky, but it really comes down to studying the end consumer, understanding what they want, need, and expect from brands so you can craft your campaigns accordingly.

Thankfully, modern data-analytics platforms make this information digestible and actionable. For example, SiteZeus Market can help you make the most of every dollar through advanced customer segmentation. It offers unique insights into your customers' real-time behaviors and interests, revealing what kind of content will resonate with them. By dedicating your dollars to campaigns that are more targeted and therefore have higher conversion rates, you can get the most bang for your buck.

Unfortunately, financial constraints aren't the only ones facing marketers — time and staffing restrictions limit the scope of projects too. As you delegate the work for an initiative, you might find yourself wishing you could stop the clock or clone your employees.

Automate and outsource

Use marketing automation software to streamline repetitive processes. Platforms like HubSpot, ActiveCampaign, and Marketo are equipped with tools for email and social media marketing, lead nurturing, and customer relationship management. Additionally, consider outsourcing tasks to freelancers or agencies that specialize in content creation, social media management, or search engine optimization. This divide-and-conquer approach allows you to free up in-house resources while still generating high-quality materials.

Increasing brand recognition

Trust is key to forming strong customer relationships, which makes thoughtful branding a must. Thankfully, there are plenty of tactics you can use to establish your brand as a reputable name.

TIPS:

Explore new avenues
Social media marketing: If your company is struggling to gain recognition, increasing your brand's presence on social media platforms is the perfect place to start. Use channels like Facebook, Instagram, Twitter, and LinkedIn to build awareness by creating a company page, engaging with followers, running targeted ads, and sharing high-quality organic content.
Influencer marketing: Use social media to spread the word about your brand and consider partnering with influencers to reach a wider audience through sponsored content. You can also explore opportunities to collaborate with other organizations for increased exposure.
Content marketing: Position your brand as a thought leader in its industry by creating high-quality, informative content that's relevant to your target audience. The insights you share can (and likely should) be presented in a variety of formats, including blog posts, whitepapers, e-books, newsletters, case studies, infographics, podcasts, and videos.
Event marketing: Hosting or sponsoring webinars, conferences, trade shows, and product launches can also increase brand awareness. Face-to-face interactions make your brand feel approachable and open the door to relationships that can be nurtured over time. Events also provide an opportunity to generate media coverage, which brings us to our next tip.
Public relations: Securing media coverage through earned placements is an efficient way to increase brand visibility and credibility. Whenever you have big news to share, such as the launch of a new product or service, be sure to announce it through a press releases, then leverage media pitches and interviews for more regular updates.
Solidify your message
Additionally, it's crucial to create a consistent brand voice and style that reflect your company's values and resonate with your target audience. Use compelling visuals and messaging that align with your brand's persona, and put checkpoints in place to confirm that materials are compliant before they're published.
But don't get consumed by formalities and forget to inject some creativity into the process. To stand out from the competition, you need to establish a unique value proposition and communicate it consistently across all your marketing channels. Focus on what differentiates your brand from others in the industry, whether it's your product quality, customer service, or pricing strategy.
Reaching your target audience
There's nothing worse than having your perfectly crafted messages fall on deaf ears. Traditional methods for performing market research, such as demographic analyses and customer surveys, can offer valuable insights, but their narrow focus may leave you missing the mark. You don't want to spend countless hours soliciting responses just to get results that are skewed by sampling bias.
TIPS:
Marketing strategies based on large-scale, real-time data will generate a higher ROI. If you're struggling to identify or reach your target audience, try using behavioral segmentation. This approach empowers you to build out your buyer personas with insights into your customers' social media activity, web visitation, and in-store purchases.
Once you've gotten a good grasp of who your top customer profiles are, tailor your content strategy accordingly. Discuss the topics your customers are interested in, partner with the influencers and other brands they like, and use the hashtags they follow to maximize your campaigns' effectiveness.
Then it's time to launch ads on social media platforms to reach specific audiences based on their demographics, interests, and behaviors. Solutions like SiteZeus Market streamline the targeting process, allowing you to bypass platform-specific ad managers and spend more time constructing your next campaign.
Creating a consistent style
Mixed messaging can confuse your audience and damage your brand's reputation. To build trust with your audience and make your brand more memorable, you'll need to get all of your team members on the same page.
TIPS:
Create a comprehensive brand style guide to ensure consistent messaging across all marketing channels. This document should include information on the brand's mission, vision, values, and tone of voice. It should also specify the use of logos, typography, color palettes, and imagery to create a coherent visual identity.
When deciding on the tone of voice to use, consider your target audience, your brand's values, and the nature of your business. For example, if you're targeting a younger audience, you may want to use a more casual, conversational tone. On the other hand, if you're in the financial industry, you may want to use a more formal and authoritative tone.
Increasing social media engagement
Social media is an incredibly powerful marketing tool, but if you're not getting much engagement, it can feel like a waste of time. Whether you're measuring your results in terms of impressions, clicks, shares, reactions, or comments, you need to create content that your audience considers relevant and meaningful in order to increase their engagement.
TIPS:
Use social listening tools like Hootsuite, Brandwatch, Sprout Social, and SiteZeus Market to monitor your customers' conversations and send the right message at the right time. Quick responses to comments and messages will show that your company is organized and attentive.
How to create posts that grab your audience's attention and hold their interest:
Include images (e.g., infographics, candid photos, memes).
Incorporate short- or long-form videos (e.g., interviews, product demos, GIFs).
Use relevant hashtags to reach new audiences.
Ask followers to voice their opinions through polls.
Share collaboration posts and run social media contests.
Keeping up with trends
If you want your audience to look to your brand for thought leadership, you'll need to share content that reflects current events, cutting-edge technologies, and unique insights. In fact, if you don't regularly start or contribute to conversations on key topics in your industry, your brand may not come up at all, overshadowed by competitors whose more relevant content ranks higher in search results.
But marketing techniques are constantly evolving, and it can be challenging to keep up with the latest trends and technologies.
TIPS:
Here are some easy ways to stay in the know:
Invest in continuing education through guided or self-directed courses.
Regularly attend networking events and industry conferences.
Follow your industry's thought leaders on social media.
Subscribe to marketing blogs and newsletters.
Optimizing your website
Your website is a critical marketing tool, but if it's slow, difficult to use, or hard to find, you'll lose potential customers. By taking a holistic approach to website optimization and using the right tools, you can improve your website's performance, user experience, and search engine rankings.
TIPS:
Increase the speed
Use tools like Google PageSpeed Insights, GTmetrix, Pingdom, and WebPageTest to identify performance issues and work with your web development team to address them. By optimizing your website for speed and usability, you can improve the user experience and keep visitors engaged for longer.
Optimize the design
To improve your site's user experience, be intentional with every design choice. Always use a clean, simple layout that draws attention to the most important elements of the page, include a clear navigation bar, and use high-resolution images and videos that load quickly. To analyze and improve website usability, you can leverage tools like Google Analytics or Hotjar, which track metrics such as traffic volume, average time spent on page, and conversion rate.
Focus on SEO
Popular SEO tools like SEMrush, Moz, and Ahrefs enable you to conduct keyword research, track search engine rankings, and analyze your website's backlink profile. To optimize your website for search engines, make sure to
use relevant keywords and meta tags,
add alternative text for graphics,
organize your thoughts using hierarchical headings,
optimize the content for your target audience, and
earn backlinks from reputable websites.
Boosting lead generation
Generating leads — it's a marketer's core business function — and it's easier said than done.
TIPS:
To improve your lead capture, ensure your website is optimized with clear calls to action and gated content like templates, e-books, or whitepapers. Then nurture leads through email marketing to and launch retargeting ads to reach people who've already shown interest in your products or services.
You can also use advanced personalization tools like Dynamic Yield and Optimizely to deliver customized experiences to website visitors and evaluate their impact through A/B testing. Add touchpoints such as personalized recommendations, surveys, pop-ups, and chatbots along the customer journey. You can even use dynamic content, altering the website experiences and CTAs to audiences based on characteristics like their lifecycle stage, device type, or referral source.
Confident you're targeting the right groups but struggling to capture their attention? Your content might not be tailored enough. Customers expect personalized experiences, which are often challenging to provide at scale. SiteZeus Market addresses this pain point by enabling you to segment your entire customer base in just minutes and create custom audiences that can be transferred to several digital platforms.
Measuring your ROI
It's challenging to know whether your marketing efforts are paying off without measuring your ROI. While it may be tempting to focus solely on vanity metrics like website traffic or social media followers, it's important to also track metrics that directly impact your bottom line.
TIPS:
Use tools like Google Analytics to track website conversions and other key performance indicators such as bounce rate, session duration, and pages per session. Monitoring these user-behavior stats will help you determine the effectiveness of your web pages.
Likewise, social media management tools like Zoho Social, SocialPilot, and Loomly can help you analyze engagement across multiple channels. And if you're looking for an analytics powerhouse, HubSpot's marketing software offers insight into revenue generation from ad, social, and email campaigns as well as landing-page forms and calls to action.
Regularly checking these metrics and making data-driven adjustments to your approach is the key to driving sustainable business growth.
You've got this!
Marketing can be a challenging job, but it's also a rewarding one. By identifying areas for improvement, adapting your strategies, and leveraging innovative technologies like SiteZeus Market, you can overcome the industry's top challenges and see your efforts pay off.
Analyze and target your top customer segments with SiteZeus Market.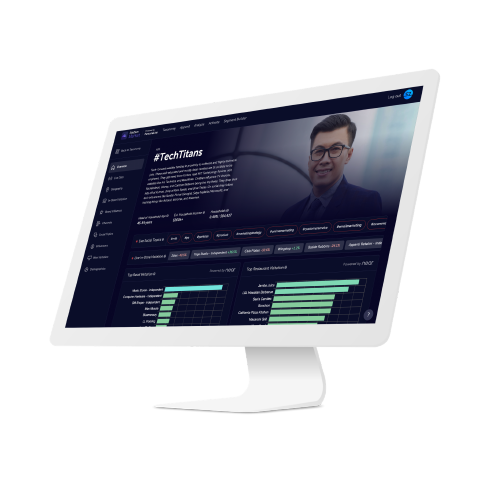 Did you enjoy this post?
Give it a star rating to help us bring you great content!
Average rating / 5. Vote count: