Groceries: Everyone needs them, but not everyone gets them in the same way
How location intelligence technology helps grocery brands optimize their omnichannel approach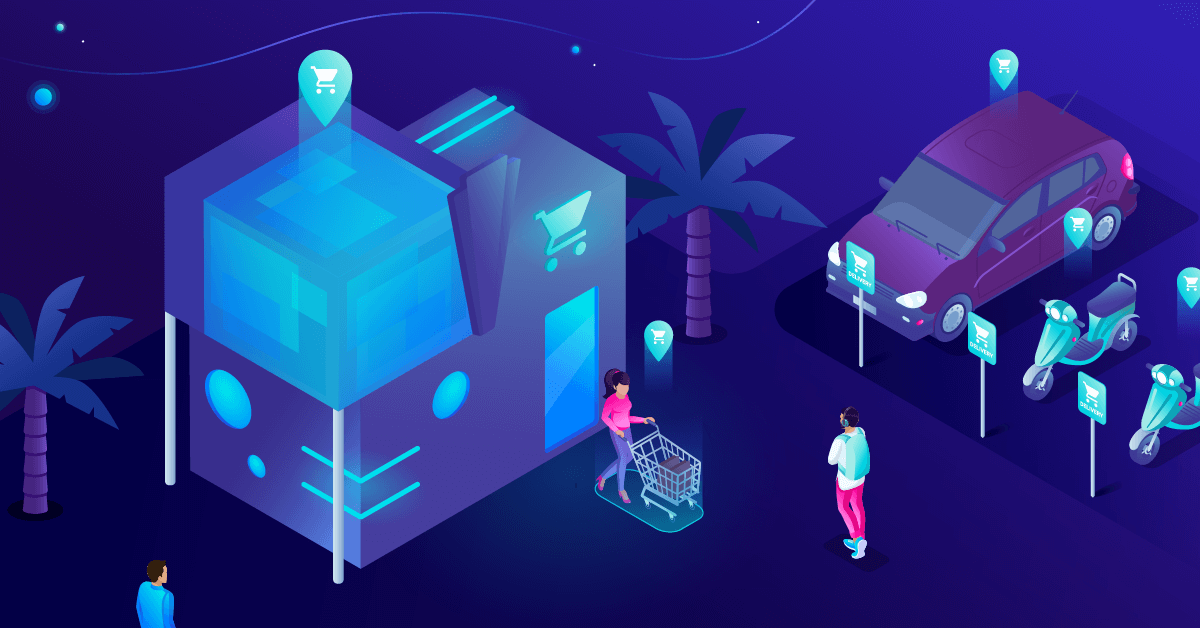 What to consider: The path forward
Grocery brands have weathered the pandemic better than most, with some even flourishing thanks to the steady demand for consumer staples. However, while some regional grocery stores may have maximized infill growth in their home markets, they still have lots of competition, including from more established big-box retailers. This means they'll need to keep up with evolving customer behaviors to maintain their current success and continue expanding.
The days of social distancing have significantly increased the flexibility shoppers expect from grocery stores, with services such as same-day delivery, online ordering, mobile apps, and curbside pickup gaining traction. In fact, Statista reports that sales from grocery delivery and pickup orders skyrocketed from $1.2 billion pre-pandemic to $7.2 billion in mid-2020. And they remained at $6.4 billion in late 2021, indicating a lasting shift in consumer preferences.
As communities continue with their "new normal"— creating plenty of omnichannel opportunities for supermarkets, retail outlets, and restaurants alike — up-and-coming brands will have to diversify their offerings to remain competitive with big-box retailers.
Where to start: Location, location, location
The first step in capitalizing on new revenue channels remains finding the right markets in which to implement them. But with the grocery industry's high construction costs and tight profit margins, these businesses have to select and build sites carefully.
So how can emerging grocers achieve maximum profits with minimal resources when making real estate decisions? By adopting a comprehensive, cutting-edge location intelligence tool. A custom-built predictive model from SiteZeus can reveal countless in-depth insights via solutions such as white space analysis, customer segmentation, and sales forecasting, to name a few. Armed with data that's trustworthy, relevant, and clear, you can make faster decisions and snag prime pieces of real estate.
Already on top of the latest trends? Maximize their power across your portfolio
If you're an early adopter who quickly pivoted in response to these rapidly changing customer preferences and you already have several locations with omnichannel offerings, you're one step ahead of the competition.  But successful brands aren't stagnant; it's time to take your plan to the next level.
Whether you're interested in boosting revenue at your existing locations or deciding how to give your new builds the best chance at success, you can't afford to overlook the impact of an omnichannel approach. SiteZeus can help you optimize your portfolio by evaluating whether it makes sense financially to offer services such as grocery delivery at a store.
Planning new stores
So you want to open a new store on Main Street but aren't sure whether it's worthwhile to offer delivery there?
Get an instant sales projection, then take that baseline revenue forecast and quickly see how it would change if you added delivery — or any of your other omnichannel programs. You can also fine-tune other site characteristics related to the store's physical makeup or operations, such as its layout and square footage or the experience of its management team.
After you've made these adjustments in SiteZeus, it's time to review your updated revenue forecast. If it's increased enough to cover the implementation costs of your desired upgrade and then some, you've got the green light.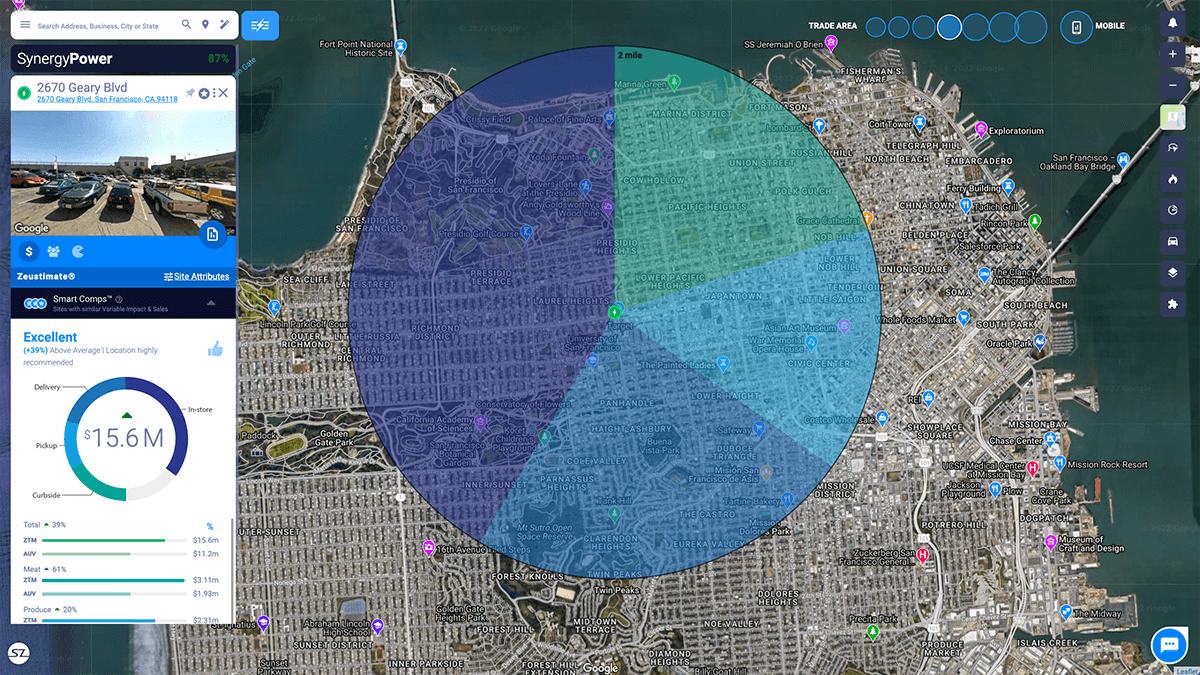 Optimizing existing stores
You're also interested in making the most of your existing investments across various markets, but with limited resources, you need to determine which sites to prioritize.
SiteZeus makes this easy by plotting your existing sites' current performance against their projected potential in the form of Quadrant Recommendations. With this dynamic visualization, you can quickly see which of your locations stand to benefit most from some extra TLC.
Once you know which locations you should upgrade first, you're ready to find the best way to do so. Simply visit the SiteZeus Sandbox to test various remodeling scenarios for one or more sites. After adjusting attributes such as delivery or curbside pickup, you'll see how the changes would affect each store's revenue.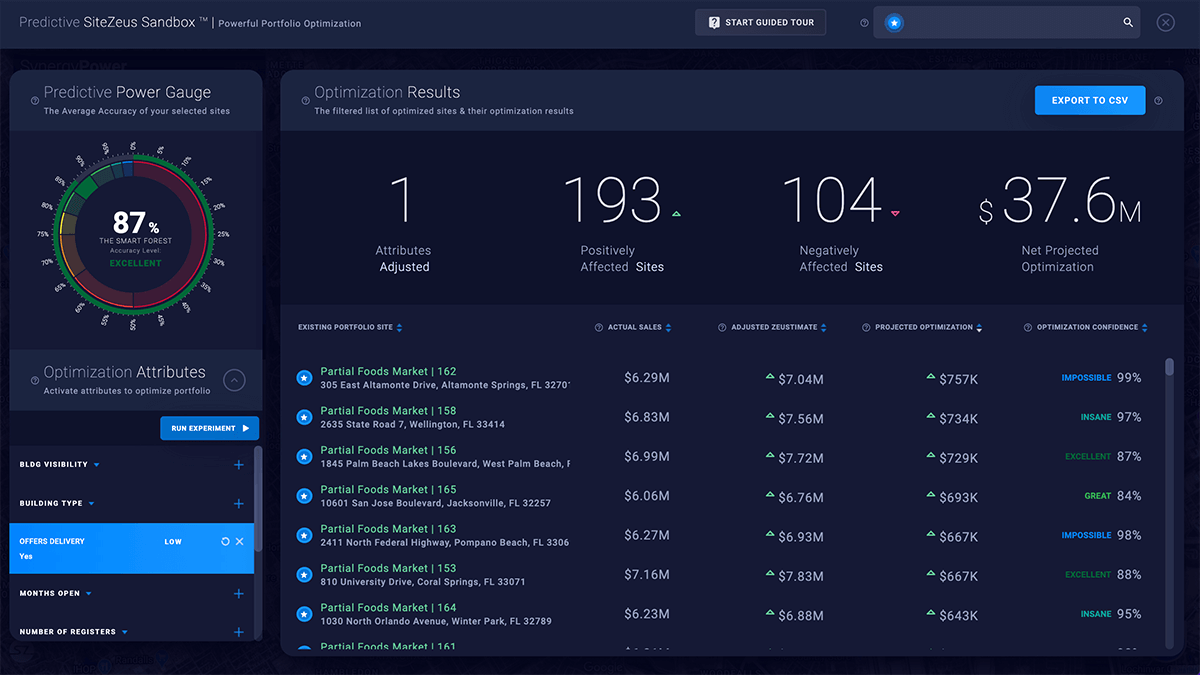 Monitoring your success rate
The best real estate professionals know that insights from retrospective analysis are just as valuable as the efforts put into up-front planning. And keeping a pulse on customers' reactions to your decisions is key to making the most profitable choices going forward.
To assess the impact of the omnichannel services you're already offering, leverage revenue breakdowns in SiteZeus to separate sales into custom categories such as "in-store" and "online." Especially curious about a particular site?  You can view its variable-impact analysis to take a closer look under the hood and understand exactly which factors are influencing the revenue projection.
Upgrade your sites and your site analytics
With access to a central market-planning platform, you can evaluate sites more effectively and stay ahead of the competition without breaking the bank. The days of blind, blanket adoption are gone with SiteZeus' clear answers about where and how to make your stores more appealing to the contemporary customer.
Stay on trend and evaluate new revenue channels with SiteZeus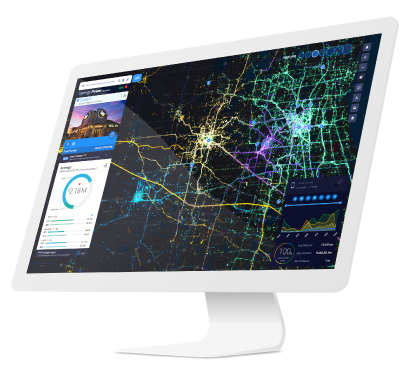 Did you enjoy this post?
Give it a star rating to help us bring you great content!
Average rating / 5. Vote count: